Go Global! Reasons to Study Abroad
Why study abroad? To experience a new culture? A new location? Meet new people? Learn more about yourself? If you have ever spoken to someone who has studied abroad, they have probably told you what a life-changing experience it was. Study abroad can be a rewarding and insightful experience, but why should you consider it?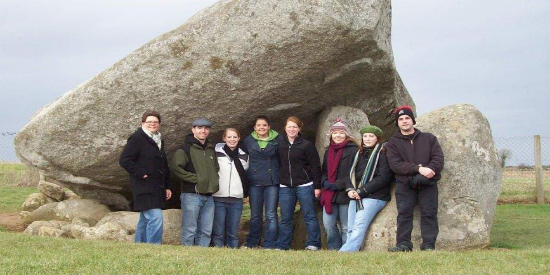 According to the Institute of International Education (IIE), globalization is changing the how the world works, and employers are increasingly looking for globally-aware graduates. Study abroad is one of the best ways students can acquire skills and open up personal and professional opportunities. The Institute of International Education notes that the top 10 reasons to study abroad are:
Learn about yourself and become more aware.
Boost your self-confidence and independence.
Learn another language.
Learn about your own country.
Expand your worldview.
Strengthen adaptability, communications, and team-building skills.
Enhance your career opportunities.
Experience another culture firsthand and enhance your cross-cultural competency.
Make new friends from around the world.
Travel.
Source: "A Student Guide to Study Abroad" by Stacie Nevadomski Berdan, Dr. Allan Goodman, and Sir Cyril Taylor
Other reasons to study abroad include:
Knowledge - living and studying in another culture teaches valuable lessons about the world and its people.
World view - gain a new perspective on your own life as you better understand individuals and communities in other parts of the world.
Independence - learn about adjusting to new study and living environments and how to adapt to a new culture.
Career enhancement - today's workplace demands global knowledge and perspective, and employers want to see international interest and motivation on your resume.
Window of opportunity - cultural immersion is rare and harder to come by the longer you wait.
There are many reasons to study abroad. Take the first step today - apply online for your study abroad experience!